August 15th, 2023
Greetings!
We are excited to offer you a first look at our newest listed surplus items at Obtainium Science and Industry Surplus.
Quantities are limited since these are surplus items, and the products are offered on a first-come, first-served basis. Don't miss out on these exclusive finds; they might be sold by the time you read this!
Whether you're looking for cutting-edge scientific equipment or rare industrial parts, now's the perfect opportunity to explore our latest additions and make them yours.
As we continue to explore the world of surplus science and industry equipment, I want to take a moment to thank you for being part of this unique journey. Your support allows us to give new life to valuable items, fostering innovation and sustainability in ways that resonate with our shared passions.
Every item you discover at Obtainium isn't just a product; it's a story, a piece of history, and a step towards a more mindful and resourceful future.
Thank you for your continued support and interest; use the discount code: AUGUST23 at checkout to receive a 10% discount off your order.

This discount code is expires at the end of August, and is also good at our sister site: PartsMine.com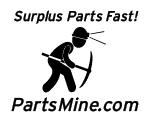 Feel free to contact us if you have questions or ideas or want to share your latest project. We always appreciate hearing from you! Additionally, if you plan to dispose of any old technology, please call us, as we constantly seek fresh and engaging inventory.